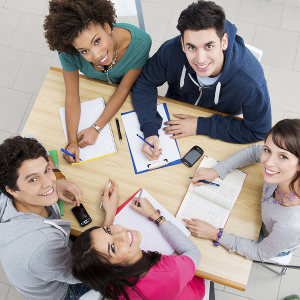 So you're opening, or you've already opened a school store? Well done. You've made an incredible choice. A school store has many benefits, including growing the school community, boosting morale, raising funds, growing the school's presence, and connecting teachers and students. However, a school store is an excellent way to teach your students about life and business.
Here are five ways to involve students in your school store:
Let Them Contribute To The Business Plan
If you're preparing to open a school store, it's an excellent time to include your students in the business plan. Creating any business plan is challenging; it requires skill, knowledge, perseverance, determination, and a strong understanding of business. Of course, you can't let your students write the entire business plan. You'll need a business leader of teachers with business expertise to help them.
However, your students can learn an incredible amount just from taking part in the business plan. They'll learn about profit and loss, marketing, and business projections. It could be a valuable insight and create future entrepreneurs in your community.
Make Your Students Official Store Staff
If you create a brick-and-mortar school merchandise store within your school building, you should make your students employees of the store whenever they're not in lessons. They can help with the sale of products, chatting to customers, cleaning the store, and ensuring all products are in the correct place and order.
As a result, your students will learn various critical skills for the wider world. They can use these skills in any walk of life.
Hold Students Accountable For The School Store's Performance
One of the best qualities in life is accountability. You can teach your students responsibility by giving them clear roles in the school store and letting them determine the success of the store. You can even create competitions between different students. For example, which team of students has the best school product sales on a given day?
By holding your students accountable, you're teaching your students about the challenges of the business and corporate world. They will learn to be responsible for their actions at a young age, which is crucial for their growth and success.
Let Your Students Create Product Ideas
The best way to create a truly unique school store that attracts attention and inspires the local community is through unique product ideas. What's more, the best way to have unique ideas is by letting your students create them.
Sit your students down and make them write down their best ideas. After a while, your students will create commercially-viable product ideas for your school shopping site. You can always reward students when their product idea performs well.
Allow Your Students To Use The POS System
The younger generation is almost always better at handling technology. Therefore, it's an incredible idea to let students use the school store POS software. Most companies and stores use POS systems in their businesses. By letting your students use the POS system in your school store, you're giving them crucial transferable skills.
Final Thoughts
Your students can learn a lot from working in your student web store. The best way to run your school store is through school store POS software. At Store4schools, we have the perfect school store POS systems for you. Contact us for more details.