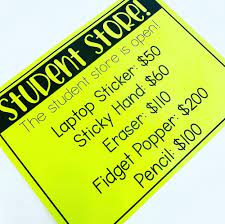 Have you ever thought about opening a school store? It's an excellent idea, but one that can be daunting. Nevertheless, the benefits of opening a school store are vast—including teaching children business lessons, raising funds, promoting school spirit, convenience, and flexibility.
Here are some signs you need to open a school store for your students:
Your Students Don't Bring Stationary To School
Every school has those children that always forget to bring crucial stationary—such as pens, pencils, and rulers—to classes. However, it can disrupt and damage the education of the individual student and the entire classroom. You can prevent any students from forgetting student inventory by opening a student store with school store products.
Your school store can include all the essentials, such as pens, crayons, rulers, books, paper, and much more. But also, it can include unique stationary options that help your students learn.
Your Students Need/Want Business Lessons
Do you students want to learn about business? Do you have students who stand out from the crowd as entrepreneurs? You can help them build a school entrepreneur community by opening a school store. Your students can run the store, manage inventory, and put their ideas forward to help build the store.
As a result, students will learn operations skills, customer service skills, sales skills, and digital marketing skills. It'll also impress parents and bring the school community closer.
You Need Better Fundraising
Fundraising is essential for any school and location community. However, that doesn't always mean it's simple. One of the best ways to improve your fundraising is by opening a school store. It's ideal if you feel you're underachieving in your fundraising goals.
Your store can be online, inside the school, or in a supply closet; it doesn't matter. Either way, your student web store can boost your fundraising potential, which will grow the school community, boost morale, and help the broader world.
Your School Lacks Community and Spirit
Do you feel that your school is lacking in terms of community? Although schools can build incredible communities, that's not always the case. A school store is a superb way to fix your community spirit at school.
That's because a school store can boost fundraising, create a better learning environment, and involve parents. In turn, this can help your school build an incredible community spirit.
You Want Flexibility
Do you have a craving for flexibility? If so, there's no better way to create flexibility than opening a school store. That's because you get to device how to run it. You can create an online store or build a store within the school. You can let staff or students run the store.
You could even sell school merchandise for school sports events. Here's the truth: opening a school store provides unlimited flexibility.
Your School Needs More Promotion
Do you feel like your school doesn't get enough promotion in the community? Word-of-mouth marketing is incredibly powerful and opening a school store—with excellent products for students and parents—is a tremendous way to promote your school in the broader community.
Final Thoughts
If you're considering opening a student web store with school supplies, it's one of the best decisions you'll make. However, using a POS system will help your store provide an incredible service for everyone by tracking sales and managing inventory.